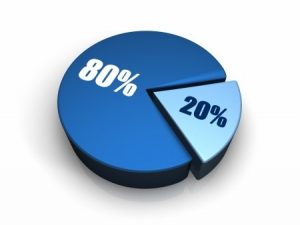 I recently read an article that KFC in Europe ran out of chicken, and had to close down for a few days. While this is an extreme example, merchandise planning and logistics are critical to success and frequently overlooked. One off the problems is they are also sometimes considered boring and unimportant, and the little bit of math scares some people away.  Times like this are when your merchandising plan can be gold.
A good merchandising plan is ensures smooth and stable growth, especially when a company is young and running on slim inventory reserves. With a merchandising plan you are able to answer many questions that might arise as sales begin to grow and change. While the merchandising plan is mainly a retail or internet concept, it also should be adapted for service industries. For example, planning for peak hours, estimating hours available, and understanding different service needs are critical in delivering services. One of the strengths of Uber is scheduling cars in the right place at the right times.
The merchandising plan starts with your product offerings including costs, selling prices, inventory, forecasts, etc. One of the traps of not having a merchandising plan is not breaking down your offerings by characteristics such as size, color, width, style price, etc., and not having supplies in the right items and surplus in the weak ones.
Managing that balance can be facilitated by planning, working with suppliers, managing lead times, and optimizing retail sales based upon analysis:
Focus on priorities and success and reduce losers. For example, test and follow the 80-20 rule. 80 % of your sales come from 20% of your products.
The first question you will want to answer with your analysis is whether or not your sales and inventory plans are realistic, profitable, and affordable. Unless you are purchasing physical assets, such as real estate, your inventory is frequently your largest investment, and often represents a majority of your cash flow. In service, businesses time is your inventory and value it.
Managing Inventory can both reduce investment and increase sales. Sell off slow selling items and ensure you have adequate stock of high-volume items
Track changes including seasonal, events, or social trends.
Measure and focus marketing efforts like stocking up for ads
Maximize volume purchases and lead times. It is simple, but frequently not considered, that lead times can be a significant factor in planning inventory
Amazon can be a very efficient resource for distribution, but you must follow their requirements, like minimizing and reporting stock-outs
The merchandising plan can be used as a simple tool to measure margins and profits, and initiate research into potential changes
Merchandising plans are a valuable tool in focusing your presentation and improving service by reducing stock-outs. For example, consumers are frequently shopping on the internet because stores have no stock.
You also need to plan sales, purchases, and inventories over time periods. This should be updated on a weekly or monthly basis depending on your "turn rate."  You also need to consider lead times, delivery commitments, minimums, stock outs, and returns in these calculations. Ask your vendors when and how you can modify orders, their terms, and their capabilities.
In summary, the merchandising plan is really the engine that quantifies your products, their financial impact on your entire business, and the marketing plans you will need to support sales. On the one hand, being in stock with the right items is critical to success, profits, and customer service. On the other hand, being in stock with obsolete or slow selling inventory is a frequent cause of excess investment requirements and lower than projected profits. Download our free merchandising plan template here.
Dr. Bert Shlensky, President of Startup Connection ( www.startupconection.net ), is a graduate of the Sloan School of Management at M.I.T. He served as the President of WestPoint Pepperell's apparel fabrics business, President and CEO of Sure Fit Products. More than 2,000 clients have benefitted from his business acumen over the course of his long career. He now focuses on working with select startups and small businesses.
Summary
Article Name
The Merchandising Plan Can Be Gold in Increasing Your Success
Description
With a merchandising plan you are able to answer many questions that might arise as sales begin to grow and change.